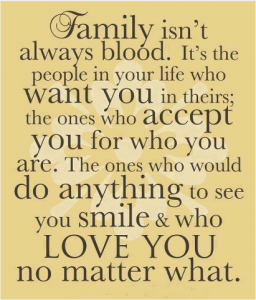 dear gallant girl,

my name is Umamaheshwari. I was born in Brentwood, Tennessee but now I have moved to India where most of my family lives. i still have some family members in Tenn. my mother's sister and her husband are still there and my cousins have moved to other states for school and work. my cousins are male. when i left to finish my education in engineering they were mad at me. they wanted me to stay and work for the family business. i never had any interest in this business and let them know that. i guess they always thought i would turn my mind around. now they barely speak to me at all. they send reply emails sometimes but they are always brief and not warm like i am used to them being. they will not address this with me personally so i do not know how to address it with them. i do not feel like i have anything to apologize for. i have reached out to them several times without them reaching out to me at all anymore. i will not abandon my goals to fulfill theirs but i feel like there is something i am supposed to feel guilty about by the way they treat me. sometimes it works too. i suddenly feel like they only care for me if i am being just like them. i also feel like my cousins have been approved for pursuing their goals because they are men. sometimes i feel like i am imagining all this because no one in my family will admit that they are upset with me, but i think they are just trying to keep the family at peace. how should i handle this?

thank you,

'Far Family Strained"

Chennai, Tamil Nadu
*** *** ***
Dear Gallant Girl Umamaheshwari,
I sure wish I had advice for you (since this is an advice column!), but all I can really do is validate and commiserate with you on this one, and share some of *my* thoughts. When it comes to family struggles, everyone you talk to will probably tell you something different. Family is very important and very strong, but it can simultaneously be very delicate and very complicated.
Even though we often feel our relationships with family members are strained when we're younger and trying to find our true identity — challenging the "rules", so to speak — that is actually when it is more simple because, at that stage in our lives, our family still holds onto hope that we will become who they daydream of us being someday. As we grow up and establish our own dreams and aspirations, world views and belief systems, this is often when we begin to see who our family members truly are, as well. Sometimes we follow in their footsteps, step by step/arm in arm, and sometimes we take an entirely different path and walk it on our own. Neither way is right or wrong; they are just different. Sometimes this causes separation between one another that wasn't there before, and sometimes it brings one another closer. Sometimes a family becomes stronger in all their diversity. But, sometimes that diversity puts distance between a family because it is hard to accept that that dream was only a very distant daydream all along.
I once wrote in one of my books, "It is sometimes the distance between two people that keep them close." This might become relevant to you as you read through the rest of my letter…
Each generation seems to have a different approach to how they handle feelings within the family unit, it often seems. I've noticed that older generations sometimes like to sweep things under the rug, and/or handle things privately, whereas our generation tends to be more open to working their emotions out therapeutically in effort to get past them, move forward, and be a voice for others. I suppose it just depends on each individual's comfort level. People, contrariwise, tend to do what works for them and not always what works for everyone. This is how things grow out of control like weeds that can overtake a garden in which took years of devoted work to cultivate. We must be careful how we use the dirt in our lives.
So here are *my* thoughts and what I, personally, think (this is not to say it's the best opinion to heed)…
I feel as though you are doing everything right and that you're exactly right: you have nothing to apologize for. Providing you never made a commitment to your family, or gave them your word that you would stay in America and work within the family business, you have every right to pursue your passions and goals. (People get themselves into a lot of trouble when they assume things without solidifying them.) Working the family business was THEIR dream for you, not your own. They, apparently, fulfilled their dream (or maybe they didn't — if it was passed down to them and they took it out of responsibility — and now they can't relate to you fulfilling your own?). They *should* have no say-so in your decision to do the same. I mean, you're going into engineering! That's an admirable career choice, Gallant Girl! It's not like you're choosing your own future to become drug dealer, for pity's sake!
Umamaheshwari, you have reached out; you have conducted yourself the same as you always have with them; you have carried on as though things are normal, which is all you can do if no one comes directly to you and confesses their anger or letdown; you have stayed in touch, even if life gets busy and communication can't be as often when you were young and carefree. You have continued to love them. You are all adults in this situation, even if they are your "elders", and hurt feelings only have a chance of being rectified if they are conveyed and shared. Right now, it sounds as though they want you to be a mindreader, and though you know something is amiss, it is not your job to pull their problem out of them; it is theirs. I don't know how long this has been going on, but it would seem some time, so it may never happen from their end. In the interim, don't focus on it until they bring it into focus.
With that said, it's okay to be sad about it because, quite frankly, it's sad. You should never feel guilty about doing what makes you happy.
There comes a time everyone needs to grow up, and sometimes it's the "grownups".
I think what you're dealing with — or they are, rather — is disappointment. And, it's possible that maybe they are even a little bit insulted. You have chosen a different life journey than the one they wanted for you……AND the one that they did for themselves. Perhaps because you have chosen a noble and industrious field, they feel foolish for expressing their disappointment, so instead they choose silence as their method of letting you know without having to hear the words come out of their mouths when they know they would probably sound absurd to most people. It sounds as though they had a vision for you and now they are coping with how to envision the new one. I suppose this is normal, but nothing ever gets resolved when those coping mechanisms are carried out with a cold shoulder and the silent treatment. These two things always result in more divide, and they are also passive-aggressive. They are, likewise, techniques used to punish people through isolating and worrisome guilt practices. In earnest, that's just not fair.
As for why your male cousins are not receiving the same treatment, I would need to know a little more information to attempt to understand the origin of that difference. Maybe they are getting it too and you just don't know, seeing as your family appears to be so tightlipped about their feelings? Maybe this is a generational thing where the men in your family pursue careers outside of "household" and the women stay within it? Maybe they saw something in you that they knew would be an asset to the family business and would keep it prospering, whereas their sons did not exude that adroitness? It could be so many things, and chances are, if you don't ask then they won't tell. This seems to be the pattern we are seeing, right?
All I can really leave you with, Gallant Girl Umamaheshwari, is that even though I do not believe that blood makes anyone "family", I DO believe *most* of our blood relatives want to see us thrive because they love us — even in disappointment and upset. Yet, family IS made up of those people who accept us and support us. Unconditionally. Family is supposed to love you no matter what and want you to live out the life that makes you feel happiness, joy, contentment and fulfillment. Most of all, family wants you in their lives, and they want you to KNOW they feel that way. They equally don't want to hurt you, even when they're hurting, so they take the steps to fixing the problem before they break the bond between you. There's no room for ego in family, whether that be by blood or by natural selection. If anyone lets that come between the two of you, they have already made the decision that that was okay with them -OR- they are letting their ego be more important than your relationship, because this means they are willing to sit on it like mules until you do the work or offer up an empty apology. This is not how ANY relationship should work, especially one between family. I suspect your aunt and uncle are doing the latter.
*** *** ***
fam·i·ly
ˈfam(ə)lē/
noun
noun: family; plural noun: families
a group consisting of parents and children living together in a household.

a person or people related to one and so to be treated with a special loyalty or intimacy.
*** *** ***
Keep going GALLANT, my friend. You are only responsible for that and yourself. I hope they come around so that you can go back to sharing your accomplishments and bliss with them. I am sure they miss it (too).
~ Heather Angelika
Founder/Owner of Gallant Girls