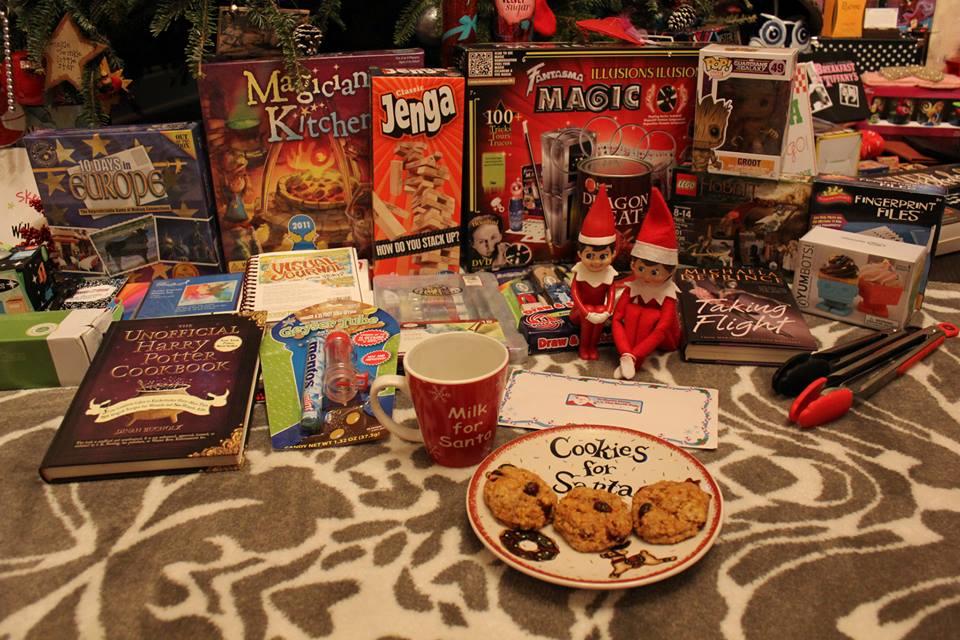 Now that the holidays are over (well, until New Year's, that is!), I can blog about all the super nifty gifts I got my children for Chriskwanzaakkuh. Other than what my 11-year-old daughter asked Santa Claus for, she did not have a specific wish list this year. I actually prefer this, because even though my daughter has things that lure her in and intrigue her with flashy advertisements and items that play into her propensity to be a victim to packaging, *I* know her like the back of my hand and I am actually a much better judge of what she will get usage and enjoyment out of at this young phase of her life. At 11 years old, I can honestly say that right now I know her better than she knows herself. ::smirk::
As many of you know who follow Gallant Girls on Facebook, we cover just how gender-focused toys are these days quite often. It is something that I feel very strongly about: that we do not pigeonhole our children through cultural gender-specific influence. I truthfully and honestly have no issue with the color pink whatsoever (in fact, I happen to love hot pink!), and I have no opinion on femininity either (I am probably one of the most girly former manual laborers and builders you will ever meet), BUT I do NOT believe that everything in my daughters' toy and clothing aisles should be about princess culture, manicures, hair salons, homemaking and shopping -OR- that everything marketed to them should look like a gargantuan Godzilla-sized bottle of Pepto-Bismol exploded in their "girls' section". I don't even believe that there should BE a girls and boys section! What's the point in that? It only tells a child that in order for them to play with these specific items and themes, they need to deviate from their natural gender and that this is not their designated "norm". I don't know about you, but I hate when people try to think for me and then, simultaneously, attempt to dictate who I need to be to be a regular ole Jane or Joe. Not that I believe anyone is ever regular or average, but being a girl who plays with monster trucks or a boy who likes baby dolls does not classify anyone's abnormality!
So, rather than to get on that tangent again, I will just share with you some of the presents I gave to my daughters this year, as well as my daughter-in-law…
*** *** ***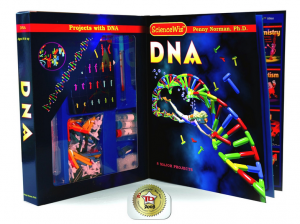 * ScienceWiz DNA Experiment Kit
Product Description:

Dive into the world of DNA! The central concepts of molecular biology become child's play with this set of favorite experiments in the ScienceWiz DNA kit. Extract DNA from a fruit, probe and spool real DNA, build a double helix, solve a chromosome puzzle, ask is it a boy or a girl?, do gene analysis, extract your own DNA and make forgery proof DNA ink – all in with one kit. WOW!

Step-by-step, highly visual instructions lead a child successfully through each of the 18 activities. The full color illustrations present central scientific concepts which allow children to discover the "why" as well as the "how" of these great projects. Bring the fun and learning further by utilizing the animations that compliment the book on the ScienceWiz website to deepen and extend comprehension.

The award winning ScienceWiz line got its start in 1995 when we released our first title ScienceWiz Electricity. Our line of science kits stemmed from Dr. Penny Norman's volunteer work teaching science in her children's elementary schools and her ScienceWiz after school and summer programs. With initial development supported by grants from the National Science Foundation and the Franklin Foundation, each of our kits is created with the goal of teaching fundamental scientific concepts to children through hands-on play. From our offices in El Sobrante, CA we work hard towards our goal of providing children a basic foundation in science. Each new title we release is focused on a distinct topic. With so many disciplines in science, our work may never be finished!
*** *** ***

* Melissa & Doug Family Road Trip Box of Questions
I got this because we are a road tripping family; we looove to road trip! When we do, we also love to play games in the car (Would You Rather, I Spy, Punch Buggy, Coke or Pepsi (questions), and we like to see how many different license plates we can see from how many different states in one drive, etcetera), so this was a perfect present to keep in the glovebox of my vehicle for when we embark on another adventure together.
Product Description:

Are we there yet? Who cares! We've got Family Road Trip Box of Questions to keep us smiling all the way. Get a discussion "rolling" with one of the 45 conversation starters, test your fellow passengers with 25 quiz cards, choose a classic road-trip game from 10 game-instruction cards, or check off the license plates you see on 6 paper maps. The Family Road Trip Box of Questions make car trips so much fun, you might find yourself driving out of state for groceries.
*** *** ***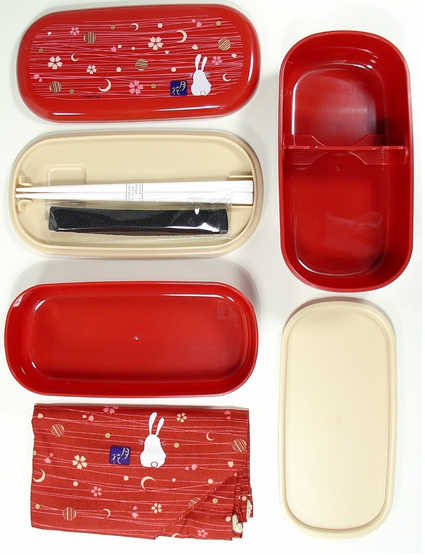 * OSK Japanese Traditional Rabbit Moon Bento Box Set
(Includes 620ml 2-Tier Bento Box, Chopsticks, and a Red Bento Bag)
I got this for my daughter because we are HUMONGOUS sushi enthusiasts. She has always been fascinated with cooking, but now she is also fascinated with the creativity and artistry of kyaraben and oekakiben Bento. It's too much fun! So, I got her this Bento box because I knew she'd have fun taking it to school with her "picture box" lunches inside. I also got her a 6 piece egg plate shaper set and all the accessories to make a nori rice ball mold of a panda. Yum!
(The product description for this Bento box is in Japanese so I won't bother sharing it, even though I know 1% of our Gallant Girls members are living in Japan!)
*** *** ***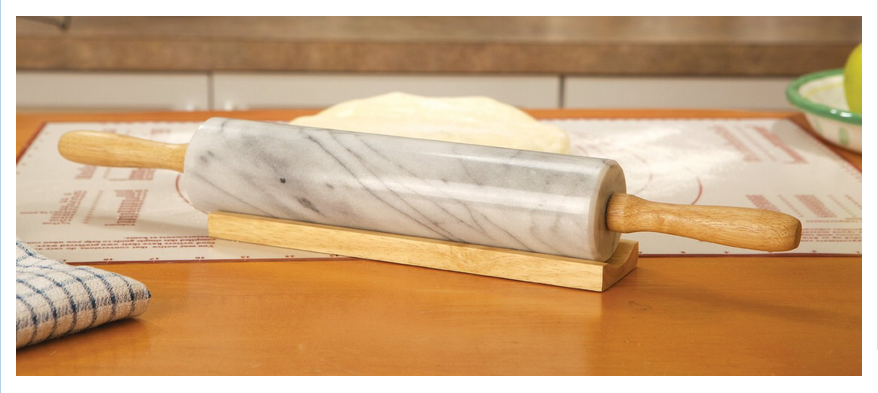 * Marble Rolling Pin and Base
My daughter currently wants to go to culinary art school to become a chef when she grows up. This is not a shocker in the slightest because when many other children were watching Dora the Explorer, my daughter was watching the Food Network. When many other children wanted their parents to video record them doing dances or tricks on their skateboards, my daughter wanted me to record her doing a "cooking show". So this year she got a lot of kitchen supplies and one of them was a rolling pin because we did not have one; we were using an empty wine bottle! ::snicker::
Product Description:

Marble Rolling Pin is 10″ long, has nylon ball bearings for a smooth rolling, wooden handles, and a wooden base for rest. The marble helps keep the dough cool.
* Magician's Kitchen Board Game
My daughter is a total gamer from tabletop to roleplaying to video. She loves anything from Dungeons and Dragons with her personal gaming group (my husband and her two twin boy friends + their stepdad), to being at a higher level in Skyrim than most of my diehard adult friends, to Clue and Scrabble. More than anything, three of her most ardently loved pastimes and interests are gaming, all things fantasy related, and cooking, so this game is perfect for her even if it's a little elementary. Sometimes it's fun to play a game that does not require a lot of brain capacity and does not last for over an hour!
Product Description:

This engaging game's 3-D design and magical concept appeal to kids, and it's more challenging than it looks. The theme: A magician's young apprentices are learning to concoct potions and must carefully toss ingredients (wooden balls) into the cauldron; players must guide the apprentices to the pot using "magic wands" and tip the balls into the pot. The catch: the bottoms of the apprentice pieces are magnetized, and metal balls randomly hidden beneath the game board create stumbling points to trip up the apprentices. Players deal with the challenge of tipping the apprentice's balls into the pot without sending the balls flying (which kids find hilarious); Magician's Kitchen is great for practicing dexterity and eye-hand coordination. Components: 4 magic cauldrons, 1 fireplace, 4 wooden magicians, 4 wands, 16 wooden potion balls, 1 fireball, 1 game board with 12 built-in magnetic balls. Dimensions: 2.75 x 11.625 x 11.625 inches. For ages 5 and older. No reading necessary. Awards: Nominee for German Children's Game of the Year. NOTE: The cover of the game box is in German; instructions are in English; game board does not have words.

*** *** ***
* Fred and Friends YUMBOTS Robot Baking Cups (Set of 4)
Do these even need my commentary? They're so cool that they're self-explanatory!
Product Description:

Fred & Friends Yumbotsare robot shaped cupcake molds. Each box contains 4 molds in four colors, red, blue, green and yellow. The actual mold itself is square. The robotic heads actually swivel. Each mold is actually different. Comes with baking instruction on a lovely printed gift box. Once again playing on our best selling robot theme.

*** *** ***
* The Unofficial Harry Potter Cookbook: From Cauldron Cakes to Knickerbocker Glory — More Than 150 Magical Recipes for Muggles and Wizards (Unofficial Cookbook)
We have checked this cookbook out of the library so many times that it was time to just purchase it so we could have it in our collection! (I type that while sitting in bed with my husband (and the flu) watching the Harry Potter Weekend on ABC Family.)
Synopsis:

With this cookbook, dining a la Hogwarts is as easy as Banoffi Pie. With more than 150 easy-to-make recipes, tips, and techniques, you can indulge in spellbindingly delicious meals drawn straight from the pages of your favorite Potter stories, such as:

Treacle Tart, Harry's favorite dessert
Molly's Meat Pies, Mrs. Weasley's classic dish
Kreacher's French Onion Soup
Pumpkin Pasties, a staple on the Hogwarts Express cart

With a dash of magic and a drop of creativity, you'll conjure up the entrees, desserts, snacks, and drinks you need to transform ordinary Muggle meals into magical culinary masterpieces, sure to make even Mrs. Weasley proud.

*** *** ***
* Funko POP Marvel: Guardians of The Galaxy – Groot Vinyl Bobble-Head Figure
This was one of our VERY favorite movies of 2014. My daughter LOVED Groot. She completely geeked when she opened this gift! He will just sit on her little bric-a-brac stand in her room, but she likes to collect cool and geeky gewgaws and gimcracks.

Product Description:

From the Guardians of the Galaxy film comes this Guardians of the Galaxy Pop! Vinyl Figure! The Guardians of the Galaxy has been around since 1969 and with a movie finally made, Marvel gives the superhero team the Funko Pop! Vinyl treatment! This Guardians of the Galaxy Groot Pop! Vinyl Figure stands about 3 3/4-Inch tall and comes in a window display box. This Groot Pop! Vinyl figure makes a great addition to any Guardians of the Galaxy fan's collection!

*** *** ***
* Silicone and Stainless Steel Kitchen Tong Set; Set of 2, 1 Red 12 Inch Tong and 1 Black 10 Inch Tong
Again, just another much needed kitchen item for my budding chef…
Product Description:

Color: 1 Red 12″, 1 Black 10″

2-Piece Silicone and Stainless Steel Locking Tong Set – 1 Red 12″ and 1 Black 10″

Cooking is one of the best hobbies anyone could ever have. But what if you need to lift or grip hot things and food in the kitchen? You would need to have your right tool to do so. Now you can get things that are out of reach and extend your hands using this stainless and silicone tong set. This kitchen utensil will give you a good grip, allowing you to conveniently flip meat and vegetables in your cooking pan

This set, is composed of 1 red 12″ tong and 1 black 10″ tong. The silicone coated heads won't damage your cookware and are especially safe for non-stick cookware. It is also durable with a stainless steel and easy-to-grip handle. It has a locking system for you to store them easily. Withstands heat up to 230°/446°F. Now who can beat that?

More importantly, this tong set is dishwasher safe, so it is very easy to clean. Get this set today and make your cooking a lot more safe and enjoyable. A good kitchen investment indeed!

*** *** ***
* Taking Flight: From War Orphan to Star Ballerina
I got this book for both the young bookworms in my life. It's a quick and easy read because the font is large and there are just under 300 pages, but it is a wonderfully inspiring story. I hope my daughter and stepdaughter both love it and take something empowering away from it — I don't know how they couldn't! The main character and her mother are both *very* impressive Gallant Girls!
Synopsis:

"Michaela is nothing short of a miracle, born to be a ballerina. For every young brown, yellow, and purple dancer, she is an inspiration!" —Misty Copeland, world-renowned ballet dancer

The extraordinary memoir of Michaela DePrince, a young dancer who escaped war-torn Sierra Leone for the rarefied heights of American ballet.

Michaela DePrince was known as girl Number 27 at the orphanage, where she was abandoned at a young age and tormented as a "devil child" for a skin condition that makes her skin appear spotted. But it was at the orphanage that Michaela would find a picture of a beautiful ballerina en pointe that would help change the course of her life.

At the age of four, Michaela was adopted by an American family, who encouraged her love of dancing and enrolled her in classes. She went on to study at the Jacqueline Kennedy Onassis School at the American Ballet Theatre and is now the youngest principal dancer with the Dance Theatre of Harlem. She has appeared in the ballet documentary First Position, as well as on Dancing with the Stars, Good Morning America, and Nightline.

In this engaging, moving, and unforgettable memoir, Michaela shares her dramatic journey from an orphan in West Africa to becoming one of ballet's most exciting rising stars.

"A story of great courage that all women—young and old—should read." —Tina Brown

*** *** ***
* Tori Amos: The Singles
I gave this to my oldest daughter. She plays piano and violin and really has a special skillfulness and gift. She has a keyboard here in her room and a piano at her house where she lives full-time with her mother. When I was just a little under two years older than how old she is now is when I first discovered Tori Amos. I was drawn to her raw truthfulness and the passion she had for her piano (not just her playing, but her instrument as a tool). So much of her music is a part of my personal life soundtrack. Her music has gotten me through all kinds of different life events, and so many of her songs are so incredibly identifiable for me. I scoured through many collections of books of sheet music to find the one that had the most of those soundtrack songs in them for my daughter. Tori Amos is an unapologetic songwriter and a survivor. I have always found her inspiring, in all her eccentricity, and I have also found her music to be magical — almost like a pixie-like nymph frolicking in a field of wild Scottish Heather. ::smile::
Book Details:

Features such hits as Caught A Lite Sneeze, China, Cornflake Girl, Crucify, God, Hey Jupiter, In the Springtime of His Voodoo, Jackie's Strength, Me and a Gun, Past the Mission, Pretty Good Year, Professional Widow, Raspberry Swirl, Silent All These Years, Spark, Talula, and Winter. Arranged for piano/vocal with full lyrics.

*** *** ***
* Stuffie — Blaze the Dragon
In a nutshell, my daughter is the "Dragonborn" (if you play The Elder Scrolls than you know what this means) and therefore loves ANYTHING and all things dragons. Of all her gifts (even though she's a "tween" now and doesn't want anyone to forget it!), this one was probably her utmost favorite; she has not put him down yet!
Product Description:

Who is fiery red, has 7 secret pockets, and comes filled with courage? Blaze the dragon! Stuffies are clever, cozy toys on a mission to keep your kid's treasures safe! They have top-secret pockets that are fun to discover and store all kinds of keepsakes!

*** *** ***

* 10 Days in Europe Game
I got this for my daughter because this summer we're going to be in Europe for about 3 weeks: Germany, Switzerland, France and Italy. I thought this could help her get even more excited!
Product Description:

10 Days in Europe is an exciting travel game that the whole family can enjoy. Two to four players 10 years of age and up can discover all the most fascinating sights this great land has to offer. But you better move quickly, the first tourist to 10 tiles wins! Venture by foot, by air, and by ship with this fun and educational board game. Fun and educational travel game. Learn all about what Europe has to offer. Takes only 5 minutes to learn and 30 to play. Recommended for 2 to 4 players. For ages 10 and up.

*** *** ***
* Dropping Ashes on the Buddha: The Teachings of Zen Master Seung Sahn
I got this book for my daughter-in-law. It was a book that she had heard mentioned on one of her favorite shows and became interested in reading it. She too loves to read, just like all our daughters, so books are *always* appropriate gifts. I love to give books as presents; perhaps my very favorite thing to give people! My son, on the other hand, I got a Doctor Who Monsters multi-pack with a Dalek, Weeping Angel, Cyberman, and Silent Army mini fig -and- a set of Star Trek 16oz glasses (one Kirk, Spock, Uhura, and Nero). As you can see, the geekiness theme runs throughout the entire family, even when they are too old to live with us. ::chuckle::
Synopsis:

"Somebody comes into the Zen center with a lighted cigarette, walks up to the Buddha statue, blows smoke in its face, and drops ashes on its lap. You are standing there. What can you do?" This is a problem that Zen Master Seung Sahn is fond of posing to his American students who attend his Zen centers. Dropping Ashes on the Buddha is a delightful, irreverent, and often hilariously funny living record of the dialogue between Korean Zen Master Seung Sahn and his American students. Consisting of dialogues, stories, formal Zen interviews, Dharma speeches, and letters using the Zen Master's actual words in spontaneous, living interaction with his students, this book is a fresh presentation of the Zen teaching method of "instant dialogue" between Master and student which, through the use of astonishment and paradox, leads to an understanding of ultimate reality.
*** *** ***
Point being, our children got a lot of different things this year and not a one of them are gender specific in our minds. Sure, there was a lot of body lotions and body sprays, nail polishes, lip glosses, and jewelry that may or may not appeal to a young man, but we sure as heck would never stop any of our children from enjoying whatever they want to enjoy! My daughter got some Monster High dolls, but she also got Hobbit Legos. My daughter got some One Direction perfume, but she also got a full magician set and forensic fingerprint kit. My daughter got a Bedazzler, but she also got paint, charcoal, and drawing sets with a few different sketchpads and many journals. The point is that we understand that our children are diverse human beings who deserve for a bricolage of things to all be combined in one broad toy SECTION — not a girls section and a boys section. We're not as different as we're taught to be or believe, and no child should FEEL "different", whether it's because they aren't into pink princesses who like to be homemakers and manicurists or that they *do* and they're boys (<— my manicurist is a man, by the way!). I want my holiday in my home to look like the toy aisles I want my children to have the freedom and joy to shop in.
Last but not least…
* Canned Dragon Meat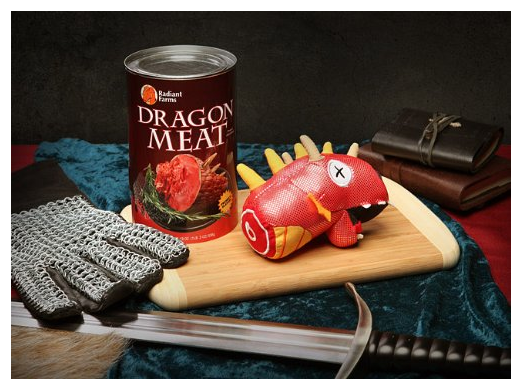 And again, does this really need any commentary?!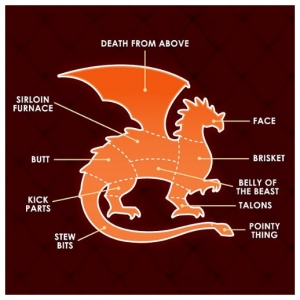 — Heather Angelika
Owner/Founder of Gallant Girls
Oh, and P.S. — My 11-year-old hopeful future chef got a KitchenAid tilt-back mixer from Santa this year! Talk about a lucky ducky!! I can't wait to see what kind of toothsome and delicious things she's going to create with the help of this!