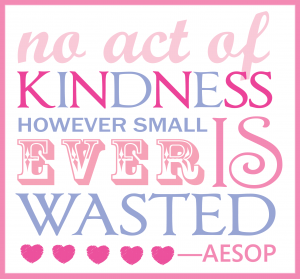 Yesterday was my birthday (I turned 40!). As my birthday wishes were pouring in through Facebook, email, texts and phone calls, I was struck with something:
Why do we wait for special occasions to tell people how special they are to us?
I thought this because so many people took time writing me the most beautifully poetic and kindhearted messages. I was humbled and thunderstruck; these people really took the time to honor my birthday and years of life with open thoughts. *I* was the one who was so honored!
Here are some of my very favorite magnanimous birthday wishes from people I have known over half my life to people I haven't known long at all…
*** *** ***
Brian:

What a very lucky group of people have had over a lifetime, let alone over four decades, is the EXPERIENCE that is truly KNOWING you for all that you are and all that you do to make the lives of the many so much better. Because you are in it, because you have lived it in a way only you can, and because you have shared it with us, this life is better than dreams could have dreamed. Thank you for having a birthday that makes us ALL want to celebrate. Thank you for being one of the greatest loves of my life, for a friendship that knows nothing about time nor distance, and for showing me how to turn life into a story, or a painting, or a photograph, something worth sharing. I love you my friend, HAPPY BIRTHDAY!
*** *** ***
Lauren:

Happiest of happy birthdays to one of the greatest ladies I have ever had the pleasure of knowing, Heather Angelika. I still cant believe I have known you for 14 years and havent seen you for 13 of them but you have been with me through all my major life events…babies born, getting married, graduating nursing school and well death also. You have been a light in the dark for me since June and are always there to gab, laugh, celebrate my childrens accomplishments and send ginormous handsome MMA fighters to my house with bags of groceries when you couldnt be here. I am lucky to have people like you in my life  Have a fantasmo day, you deserve it.
*** *** ***
Lisa:

Happy birthday my sweet beautiful friend. You are one of the best things to happen to me and this weird crazy planet. You bring joy, cause me to think and make me laugh everyday. You have been a shoulder when I needed one. Thank you for being in my life! Love you like one of my own!
*** *** ***
Lisa (x2):

Happy happy birthday to one of the coolest and kindest chicks I've never met . In person anyway. I look forward to doing that one day soon! I hope you know the gift that you are. Truly! Sending lots of love and light your way. xo!
*** *** ***
Lily:

Happy birthday Heather! Have fun today. And every day!! Secret Samta has arrived thank you!! Your such a great person! Oh yeah Sean too lol merry Christmas to such a wonder family, kisses
*** *** ***
Dean:

Dearest Heather, I hope you have an amazing Birthday full of friends, family, great music, tattoos, cleverness, and heart – just as you have shared with all of us!

*** *** ***

Tali:

Heather, my sweet, creative, always silly partner in pink, I hope you have a wonderful birthday, and a fantastic year. Love ya!!
*** *** ***
Tracy:

Heather, I don't even know where to begin. We've only recently come back in touch after many years, yet I feel like we're so close. You get me and vise versa. You've come to mean a great deal to my life. You're truly a wonderful friend. You're thoughtful beyond measure, you're kind, you're beautiful, you're cultured, you're intelligent, you're an awesome mom and from what I can tell, a hell of a wife!

Anyone that comes in contact with you should know that they've been blessed by a true hearted woman and a beautiful soul.

I love that you don't judge. You appreciate and accept people for exactly who they are. You stand firm your beliefs for yourself and remain unshaken.

I envy you and love everything about you. Thank you for accepting me and all of my flaws. Thank you for being my friend. I love you.

Happy birthday my friend.

Forever your friend,
Tracy
*** *** ***
How could my birthday not feel grand with sentiments like those?! Did I ever feel blessed!
But, all I could think was that as people, we often wait until life events or holidays to express our sincere, heartfelt feelings to the people we care for and esteem, and this seems like something we could — and most certainly SHOULD — change. All throughout the year, people would get such a tremendous boost out of our honesty and uplift if we just expressed it when we felt it!
My mother sent me a "40 Tree" for my birthday. It was filled with gift cards that all had $40 on them. #clever Because I just entered a new decade, this was a huge milestone for my mother — and me! — so she treated me to a shopping spree. I am not one to shop, let alone spend money on myself, so she knew this would push me and force my hand at pampering myself. I have to admit, it was really splendiferous! However, WHILE we were out and about around town, these kind of giving compliments just kept coming!
When we (me, my husband and daughter) went into Ulta, a woman came up to me and said, "I just wanted to tell you that you are just beautiful! You probably hear that all of the time, but I think as women that it is important to let other women know and lift them up." Little did she know that I was looking at anti-aging products and a concealer for my hormonal pregnancy mask that has not gone away in 11 years. (I don't have an issue with aging whatsoever, but I don't need to send it a welcoming invitation!) I made sure to let her know that I thought it was so special of her to not just think it inside her head, but to voice it out loud (and also that I was absolutely blushing from modesty), and I told her all about Gallant Girls and how this is one of our running themes — to not compete with other people, but to celebrate them. We had a lovely conversation on the topic!
After Ulta, I had a gift card for Charming Charlie. While we were in Charming Charlie, a male employee came up to me and asked me if I was finding everything okay. I answered him and smiled, then he lulled for a moment and said, "I haven't seen you in here for awhile." (I NEVER go shopping unless my mom is in town, so that would have been sometime around Halloween.) Then he continued, "I just have to tell you that I always notice you because you have such a cool sense of style. I love your whole look!" Again, I blushed, but I let him know, too, how incredibly nice it was for him to tell me so! He said, "You know, that's true. I should make more of a habit of it! It is all my pleasure!" ::grin::
From there we headed over to Kohl's. Prior to going to Kohl's, my family and I had stopped at a coffee shop and I got a gargantuan tumbler of black tea. After being there for a little bit, I had to use the restroom. My husband and daughter decided to go and browse the store while I went upstairs to find the facilities. When I was washing my hands, an older woman came out of a stall and took the sink beside me. She looked over and smiled and I smiled back at her, at which point she began talking. She said, "I saw you and your daughter downstairs in the juniors' department. She is adorable, but I kept watching the two of you because it is really obvious you two have a strong bond. I can tell how much you adore each other. That is such a blessing to have! You remind me of me and my daughter at that age. I bet y'all have so much fun together! You are both so wonderful with each other; your closeness just pours out of you both." THIS was my very favorite random act of kindness of the day, by FAR. ::love::
Our last birthday shopping stop was Old Navy. When I went to checkout, the young girl had trouble reading my gift card. She asked me if I knew how much was on it because they were asking for a code and this was not standard. I said, "Yes, I do! There's 40 dollars on it because this is my 40th birthday gift from my mom." I went on to tell her all about the "40 Tree" and she just stood there, still as can be, smiling at me. I *thought* she was thinking, 'What a neat idea!', but then she said, "Get OUT! There is NO way you are FORTY! You don't look a day older than my sister, and she's been freaking out because she just turned 30." I chuckled at her bubbly enthusiasm and thanked her for the comment, but let her know that 30 was a looong time ago for me. She said, "Well, I sure hope I am as young as YOU when I am 40! You go girl!!"

The reality is that a few of these people *could* have just been trying to sell me something during the Christmas season, but that is not the point. The point is that it all got me thinking… What a world we would live in if people gave compliments so freely and more people practiced random acts of kindness all day long! So many of us see people — perfect strangers sometimes — and think complimentary things, but so seldom do we go out of our way to say them to them. Imagine how much good these thoughts would do if we let them out instead of just thinking them in our heads! Even when we picked up one of my stepdaughters to go see Mockingjay Part 1 (for the last part of my birthday celebration that day)… She just blurted out so candidly, "I like your coat! It's really nice and pretty." Somewhere along the line, as we get older, we lose that openness to just say what we see and feel to others. I think that's really quite a shame, for whatever reasons it happens.
I walked away from that ONE day feeling like a million bucks, as the figure of speech goes. We do not have to pay external compliments about people's physical appearance to make a difference, though — my most favorite comments were about all the things internal. Seeing as I have spent 40 years on this earth now, so many of my friends, and some of the strangers, comments made me realize that even when I feel like I never will do enough to change the world, that I have left positive things behind on an individual level. This is big too! Affecting people's lives positively starts one person at a time, and I canNOT imagine a higher compliment! It warms people's hearts to know that you are warming theirs; so, tell them! Tell them now. Tell them anytime of the year. Tell them every time you think of it. What's stopping you?
This morning I made a post on Gallant Girls about "Random Acts of Kindness". Compliments are a great way to begin, but there are so very many ways:
* Smile at people when you make eye contact (even if it's accidentally)
* Hold doors open for people
* Treat everyone as equals
* Don't judge
* Be nice to everyone, even if they are seemingly having a bad day and not particularly noticing you
* Pay people compliments for no reason whatsoever, but because you've thought something complimentary about them
* Be kind to those people who have trouble being kind to you for reasons you know have nothing to truly do with you
* Tell someone you're proud of them, even when nothing noteworthy has transpired
* Let people know they're doing a great job, even when it is just what they should be doing
* Touch someone in a caring way, if and when it's appropriate (the human touch is a connector and also medicinal)
* Send someone a card via snail mail out of the blue
* Whenever you think of someone, no matter how trivial, tell them
* Bring a blanket to someone who is homeless
* Cook a hot meal for someone who is hungry
* Invite someone who has no family to dinner for the holidays
* Visit someone you know is feeling down or lonesome
* Reach out to someone who is hinting at going through hard times
* Shake hands and give hugs
* Treat people with respect, always
* Just open your eyes and ears in this busy world, Gallant Girls & Guys — open up your compassion and unlock your empathy!
We should all be secure without accolades and attention. We should not require those things, but relish in those things when they come. As much as we all have to have security and confidence and self worth without the praise, it is a part of human nature that craves those things for a healthy psyche; and we all deserve it! There's not a soul on this planet that does not thrive with validation. Keep that in mind as you go through this life. Remember that for every nice gesture and act of kindness that has sparked your day with something touching, you can do the same for many people, tenfold.
And just remember Gallant Girls & Guys: physical appearances fade (in the eyes of society and culture), but internal beauty is there from the start to the end. Cultivate that beauty that stays with you, even after death…… your humanity, integrity and self-expression.
Go GALLANT, my friends!
~ Heather Angelika
Owner/Founder of Gallant Girls