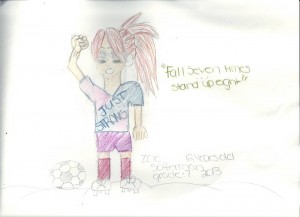 We have a NEW Official Gallant Girl Icon contest contestant!
Meet Zoe: Zoe is 12 years old and a real vivacious, determined, animal-loving, sporty Gallant Girl. I get such a "kick" out of her! I love how she loves her family so strongly, and implies that they come before all else — way to reciprocate the unconditional goodness that family is meant to be. Give it up for Zoe, Gallant Girls! She is a girl on the move with such a great artistic ability, to boot! It is wonderful to see the varying ideas of a what a physical Gallant Girl icon should be through the eyes of all these bold, daring, and strong young women. It's so refreshing to know that girls like Zoe will be taking over the world someday. It gives me faith for what's to come.
"I LOVE soccer! I Live and breathe it. I get good grades in school but would much rather be outside doing something active. I'm an animal lover for life, but most importantly my family is what i couldn't live without. I am totally against bullying and think that all girls are strong.The character in my artwork shows that being strong doesn't mean just muscles and strength, it means determination, and doing what you love, and to never give up!"
NOT STRONG FOR A GIRL, JUST STRONG!
Or, as Zoe would say… Fall seven times, stand up eight! (LOVE that!)
Give Zoe a virtual HI-5 for her impressive artwork, good grades, and overall character!
~ Heather Angelika
Owner/Founder of Gallant Girls